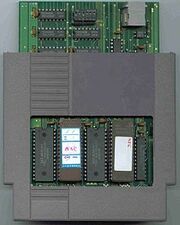 The 1991 Nintendo Campus cartridge was created by Nintendo for a video game competition like the Nintendo World Championships in 1990, but this one would tour college campuses and spring break hot spots. The cartridges had three games on them, Super Mario 3, PinBot, and Dr. Mario and a time limit of about 6 minutes. You tried to get the most points on all three games within the allotted time. After the event the games were all supposed to be destroyed but this one was found at an ex-Nintendo employee's garage sale in 2006.
Up until recently, it was hard to pin down a value for this cartridge as it never really surfaced on the marketplace. It was recently sold privately for $14,000 and then later resold for $20,100 — bringing it just shy of the mark for the 1990 Gold Nintendo World Championship Cartridge. 
Community content is available under
CC-BY-SA
unless otherwise noted.