This was a special tournament version of the Atari 2600 game Atlantis. The gameplay is much faster, the scoring system has been slightly altered from the original, and enemy ships are worth far less than the original version, where the city of Atlantis must be protected from the evil Gorgon spaceships. Copies of the cartridge were sent to the top players in the Defend Atlantis competition, primarily because there were far more than four people capable of maxing out the score in the original Atlantis. Of those receiving the cartridge, four were chosen and sent to Bermuda for the final round of the competition, where the winner won $10,000. The game looks identical to Atlantis, though a sticker with "Atlantis II" typed on it was stuck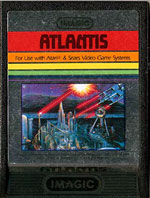 to the front of the box. It is unknown who won the competition.
Community content is available under
CC-BY-SA
unless otherwise noted.