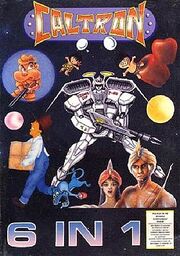 Caltron 6 in 1 is a multicart published in 1992 for the Nintendo Entertainment System in North America, released by Caltron, a Taiwan-based video game company which was either closely related to, or simply a pseudonym for, NTDEC. In Australia, it was published under the title Real Players Pack by Home Entertainment Suppliers (HES). This version is regarded by collectors as the rarest HES game. Dynacom released the cartridge as Multi Ação 6-in-1 for the Brazilian market.
6 in 1, as its title suggests, consists of six different games of various genres. The games included, which are mostly clones of other popular video games of the era, are Cosmos Cop, Adam & Eve, Magic Carpet 1001, Balloon Monster, Porter and Bookyman. These games were all previously released separately in Famicom format by NTDEC, often under the name Mega Soft.
The compilation has received poor reviews, with one reviewer claiming that all six games on the multicart are "uniformly awful [and] barely first-generation NES quality", even though they are more playable and are of "much higher quality" than other unlicensed video game compilations, specifically citing Active Enterprises'
Action 52
as the comparative example.
Community content is available under
CC-BY-SA
unless otherwise noted.