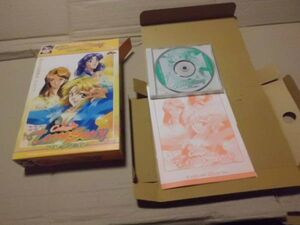 College Terra Story is a Japan only PC game released in 1998. It is the Sequel to the Sega Saturn/PC game "High School Terra Story".
The game itself much like it's predecessor is a dating simulation, it continues from where High School Terra Story ended. For unknown reasons College Terra story was made in a very limited quantity, so limited that the game seems to be one of the most mysterious rare games of all time as there is no gameplay footage and no ROMs of the game on the internet and it's unknown if a copy of the game has ever been up for sale on EBay or how many people actually own a copy of the game.
EBay seller hit-japan currently has a copy of the game's strategy guide for sale in which various images from the game can be seen. College Terra Story was up for sale recently since an image of the game box and CD appeared on "auctions.yahoo.co.jp" the amount of money the game is or was being sold for or if the seller even still has the game is unknown.
The facts regarding how many copies were ever put up for sale since the game had been discontinued, the game's release status or how many copies of this game were ever made and/or found remain unknown.
Community content is available under
CC-BY-SA
unless otherwise noted.